---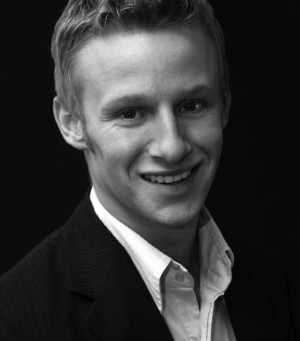 Riley Huskey - Vice President
Riley is in his fourth year as Vice President of SCP, and has been responsible for assisting all Board members with their needs. He is responsible for many of the Corporation's media interviews and heads the Star City Pride Pride Guide committee, working with advertisers and the designer/printer to put out a high-quality publication each year. With a bachelor's degree in Journalism and master's degree in Public Relations, Riley strives to bring all stakeholders together for a successful Pride Festival year after year. Outside of his non-profit duties, Riley is an Immigration Services Officer for U.S. Citizenship and Immigration Service. He is currently detailed as the Writer/Editor for the Nebraska Service Center in Lincoln, and heads up print internal communications.
---
Kephanie Misko - Secretary
Kephanie is in her fifth year as the Secretary for Star City Pride  She has been heavily involved in generating new revenue each year from sponsorships, advertising and vendors while continuing relationships with previous years' supporters. Outside of her volunteer time with Star City Pride Kephanie specializes in sales and customer service; currently working in the Operations Department at Crete Carrier. Kephanie actively seeks ways in which Pride can be bigger and better. Since joining the board of directors, with Kephanie's help, revenue from these avenues has increased each year. Kephanie looks forward to helping make Pride 2018 the best year yet!
"We all know someone that can be a positive supporter of LGBTQIA rights in Nebraska whether it be an individual supporter volunteering their time or a business that will publicly support the LGBTQIA community. We simply need to make that connection and get them on board with us. The more supporters we have the easier the conversation becomes on passing equal rights which in turn will keep talented LGBTQIA individuals in our community".
---
Ron Royer - Entertainment Director
Ron is serving his first term as Star City Pride's Entertainment Director. He is excited to begin preparations for the 2018 Star City Pride Event, which includes organizing benefit shows, scouting local and national entertainment, and overseeing the festivities on Pride weekend. Ron has a long history in Lincoln's entertainment scene, first serving as Mr. Q in 1999. He has experience hosting and performing in countless events at many of Lincoln and Omaha's LGBT establishments. Ron has volunteered for Star City Pride since its inception in 2007 and continues to give freely whenever he can. In 2015, Ron returned to school and is actively pursuing a degree in Computer Information Technology / Network Administration. He is constantly working to better himself and his community. Ron is a welcome addition to the Star City Pride Board of Directors!
---
Star City Pride Contact Info