Sunday, October 8, 2017 1:00 pm - 5:00 pm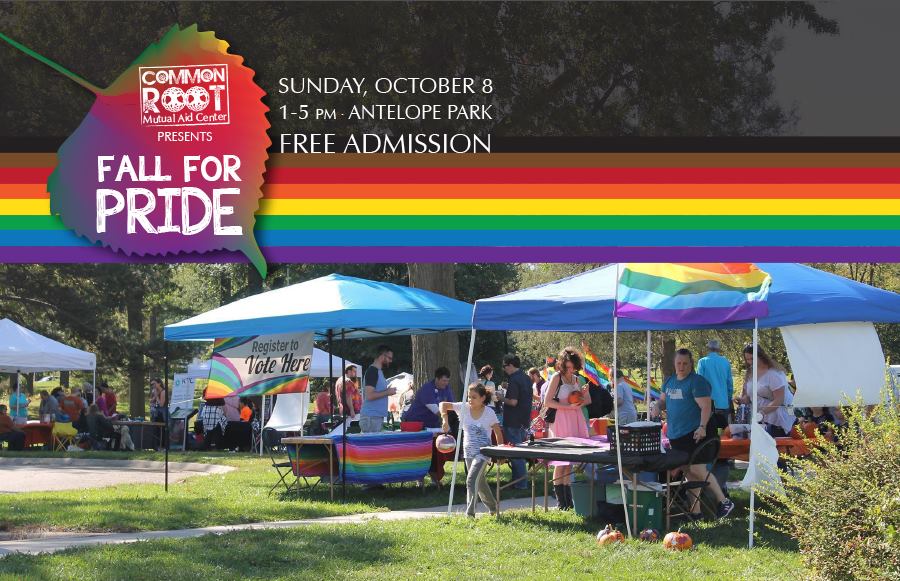 Description:
Join us at Fall For Pride 2017 for live entertainment, food, local vendor booths & activities; creating a welcoming, free, community-centered event for everyone in the spectrum!

This family-friendly event is for people of all ages, with an emphasis on building a QUILTBAG (Queer/Questioning, Undecided, Intersex, Lesbian, Transgender/Transsexual, Bisexual, Allied/Asexual, Gay/Genderqueer) inclusive space.

Fall For Pride is hosted by Common Root - Mutual Aid Center & sponsored in part by KZUM, OUTLinc - Lincoln's LGBT Community, Trans Collaborations, ACLU of Nebraska, PFLAG Lincoln, Indigo Bridge Books & Omt Divine Resale.

We're currently seeking:
-Local Vendors
-Sponsors
-Performers
-Volunteers

Apply on our website: http://commonroot.net/ffp/

Many of our vendors will be providing free activities throughout the event. Stay tuned for updates on performances and activites.