Welcome to Star City Pride
ANNOUNCEMENT: Megan Salley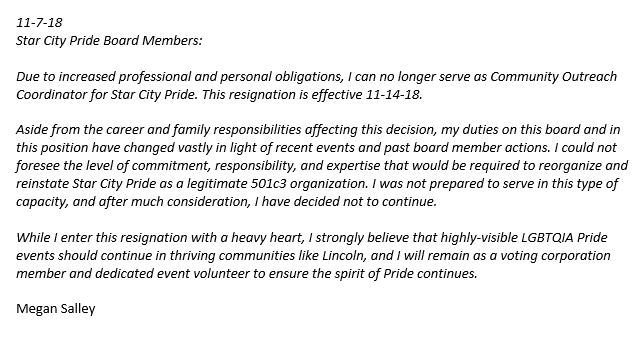 ---
ANNOUNCEMENT: Star City Pride Board
Due to the recently discovered issues with Star City Pride's 501(c)(3) filing status, and taking into consideration our reduced volunteer staff, we have come to the unfortunate conclusion that we are not able to hold the Star City Pride Husker Tailgate Party as planned. It is in the best financial and strategic interest of the organization to postpone this new event until we are better able to deliver.

We look forward to presenting many new and original events to our Star City Pride community and we will continue planning big and exciting things for the year ahead, including the 2019 Star City Pride Festival. Keep an eye right here or like us on Facebook for updates.
---
ANNOUNCEMENT: Gretchen Arroyo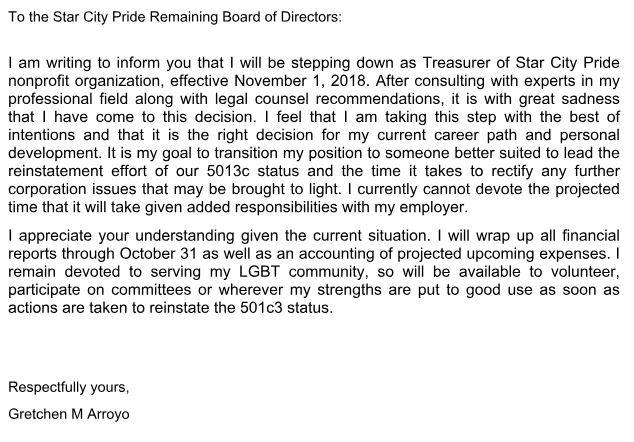 ---
ANNOUNCEMENT:Star City Pride Board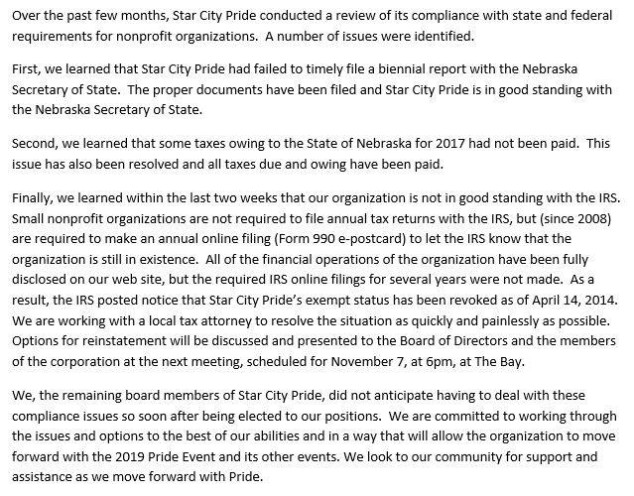 ---
ANNOUNCEMENT: Dan Marquez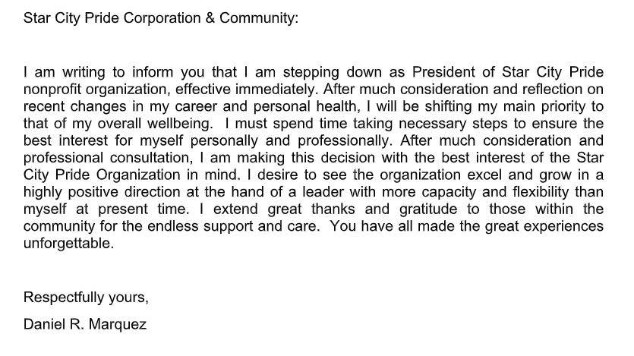 ---
Thank You, Thank You, Thank You!
The Star City Pride Board would like to take a moment to thank all supporters of the 2018 Pride Festival in Lincoln. The countless hours spent by the volunteers, committees and corporation members made Star City Pride 2018 an absolute success! To our entertainers, you captivated the crowds and took our breath away with every performance that hit the stage! Our sponsors and vendors stepped up when they heard the call and turned out physically and monetarily to support the LGBT community of Lincoln and all of Nebraska. To our patrons and pride-goers, we can't thank you enough for your attendance at Pride and look forward to making each and every passing year bigger and better than the last. We were humbled to kick off the 2018 Pride Month, and were fortunate to loudly and proudly, SAY IT WITH PRIDE! Thank you, thank you, thank you!
Miss part of the 2018 Pride Festival?
View the 2018 Star City Pride Festival Headliners Here!
---
Congratulations to our new 2018 Mr & Miss Star City Pride!
Mr. Star City Pride 2018 - Honeysuckle!
Miss Star City Pride 2018 - Anastasia Shakers!

These two are a motivated pair and we can't wait to see what they'll do this coming year.
Congrats! You deserve it!

2018 Star City PRIDE Pageant
---
The 2018 Stella Awards results!
We are so proud to announce the winners of the 2018 Star City Pride Stella Awards. All nominees in all categories are winners in our eyes and we thank you all for your participation!
Best Musical Ensemble – Floor is Lava
Best Solo Vocal Performer – Ron Royer
Best Non-Vocal Performer – Dan Huntley
Best Drag King – Sir Extacy
Best Drag Queen – Britney Knight
Best Overall Entertainer – Sir Extacy
Best Hair Professional – Moriya Martin
Best Date Night Venue – Panic
Best Community Outreach Program – Drag Queen Story Hour Nebraska
Best Place to Create Community – Panic
Best Workplace – Bryan Hospital
Best Up & Coming Pioneer – C Balta
Founders Award – Paul Pearson
Twitter Feed
The following is a message from our Community Outreach Coordinator. Megan, we wish you all the best and you have be…
https://t.co/LrhmwBO3hG
Our Mission:
Star City Pride was created to support the LGBTQIA community in Lincoln, NE. Every year in June, allies and members of our community come together to celebrate what Pride stands for and to raise awareness of equality in our city.  This annual two day event is not possible without the generous support of our donors and advertisers.
---